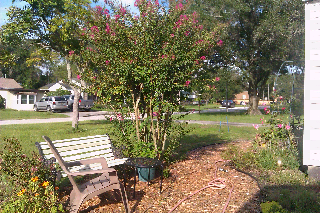 We've made a nice spot to sit in the front yard. It's not shady in this picture, but in the morning it's a nice shady spot to take a break from weeding.
My plan is to paint the bench slats each a different color like a rainbow and write an affirmative phrase on each. Always so much to do and not enough time to fit it all in.
I'd like to paint that chair too, but it's plastic and I don't like the colors available in the spray on plastic paint. I want to paint it Purple or Fuchsia but the H.D, only has primary colors.
We added some vines to the trellis there on the right. A Purple Passion Flower and a Pink Allamanda. The Roses are still there but not growing very quickly so the vines are filling in the bare spaces.
The Ice Plant has filled in the front garden very well, I'll try to get a picture soon.